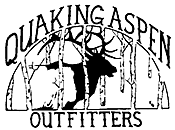 Hello and welcome to Cosmic Cruisers' and Quaking Aspen Outfitters' Summer Schedule.
The horses rest and play in the winter while the dogs take people mushing and in the summer dogs rest and play while our horse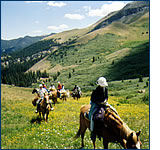 family does what they do best - take you into the Gunnison National Forest to experience an area known as the La Garita Wilderness!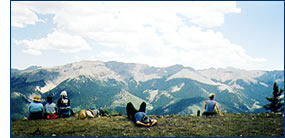 We have been running remote wilderness horse pack trips for 30 plus years. We have a lot of repeat business and people love our trips and horses. You will be fed 'til you're stuffed by fire cooked meals morning and night. You will sleep, warm and comfortable, on a cot in large tents.During the day you and your family or friends will ride up to the Continental Divide, along the way you will have lunch and there's plenty of time for photos. You may wander into a herd of 300-500 elk as they whistle and hum to one another. Moose may be present as are deer, cats of various sizes and maybe a sled dog or two.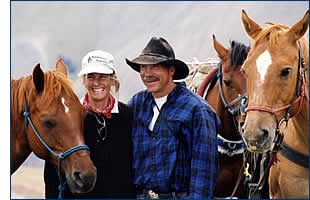 Children and adults will have a fun and exciting adventure as the wilderness opens up for you to experience all of it! Our trips take you away from everything, yet we take excellent care of you all the time - it's what we do! We have taken all ages and all abilities on our remote wilderness tours - wheel chairs can ride on a pack horse. We look forward to hearing from you!
Dave and Lisa Mapes
970-631-0529
please call for pricing & to book your trip!

Dates: Summer 2009
June - July

Relax by the campfire
Fish the ponds
Day horseback rides out of camp
Hiking
Photography
Quiet, quality time with family & friends
Great meals
Majestic surroundings
Fresh air
Low impact, environmentally friendly vacation
Operating under a special use permit from the U.S. Forest Service in the Gunnison National Forest.